QUESTION – Tell us about yourself. Who is Christina Atkinson?
Christina A. – I don't think anyone can describe themselves well in a couple of sentences! But I think my friends would describe me as an energetic, passionate, and loyal person who is always looking to understand more of the world and never misses an opportunity for celebration.
QUESTION – How were you first introduced to the Steelpan?
Christina A. – I started playing around the age of eight as a part of my primary school's music program. Instead of having a violin or guitar class, we had Steelpan class. Although playing steelpan started out as something mandatory, I could see some students gravitating towards it more so than others. I was definitely in the latter group and ended up participating in additional early morning practices and performing as often as possible.
QUESTION – When did you join the Toronto All Stars Steel Orchestra (TASSO)? Describe that experience.
Christina A. – Rosedale Public School is a kindergarten to grade six school, and students have the opportunity to continue playing after graduation, in the alumni group TASSO. I knew I definitely wanted to keep playing and was inspired by the graduates that kept with it, including my older sister. Plus, there was a trip to an international music festival that summer that we had been feverishly preparing for that I knew I wanted to be a part of. All in all, I couldn't think of any reasons not to join.
QUESTION – TASSO performs internationally, bi-annually. What international tours have you participated in with the band? Describe the experience of international travel with the orchestra.
Christina A. – The first trip I went on was to Sydney, Australia. Still to this day, I consider one of my greatest accomplishments as being a part of the first steelpan band to ever play in the Sydney Opera House. It is any musician's dream to play in such a famous venue and I was so incredibly lucky to experience that at such a young age. I subsequently travelled to Scotland, Italy, and Austria/Germany/Czech Republic on three other trips. Each trip was such a unique experience – different countries, different festivals, different venues, even different members as kids would move in and out of the band. Some of the constants during these trips were my core steelpan friends who I've known for nearly my whole life. Our wonderful instructor, Salmon, fiercely supports us, the intense discipline and dedication to our work that every member of the band exuded, and the life-changing performances we completed together in stunning venues around the world.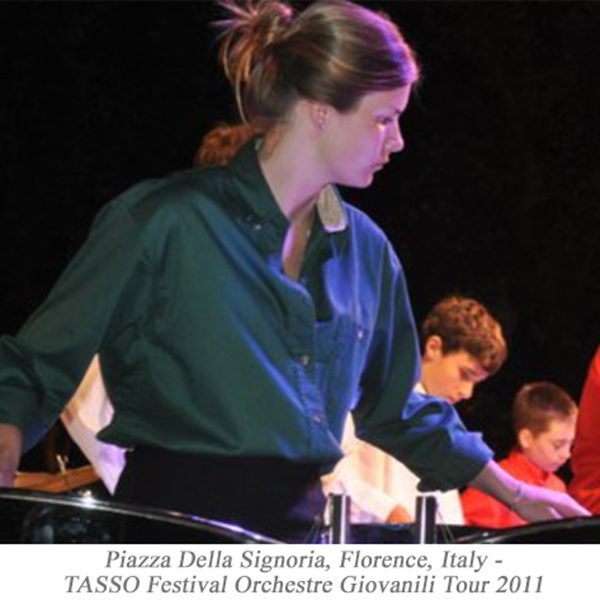 QUESTION – What are you most proud of as it relates to Steelpan and TASSO?
Christina A. – I would normally say performing in the Sydney Opera House, but that is just one example of what we have accomplished. It is the impact that our accomplishments had on ourselves and on others that I am most proud of. We have played at hospitals, churches, retirement homes, and fundraisers. We held garage sales to afford to share our music globally. We memorized thousands of notes and practiced endlessly to perform at an award-winning level. Without a sound, we carried heavy oil drums up the tiny winding staircases of centuries-old venues. We faced mental and physical exhaustion from jet lag, multiple performances in a day, and the logistical obstacles of playing such unique instruments. We learned how to be resilient, how to work hard to achieve significant goals and how to work effectively in a group. We learned to push ourselves beyond our limits, and how to hone and harness our passion. All of this work we accomplished is something to be very proud of.
QUESTION – After graduating from TASSO, what university did you attend and what area of study did you pursue?
Christina A. – I actually continued playing into my first year of undergraduate university in order to support the band on our Europe trip in 2013. I attended the University of Toronto (University College) for an Honours Bachelor of Arts in Economics and Public Policy. I then continued my studies at the University of Copenhagen in Denmark in a Master of Science in Global Development. I graduated from my Masters program in June 2019 and am currently working in the non-profit sector on impact measurement for programs that aim to improve the social and economic well-being of marginalized individuals.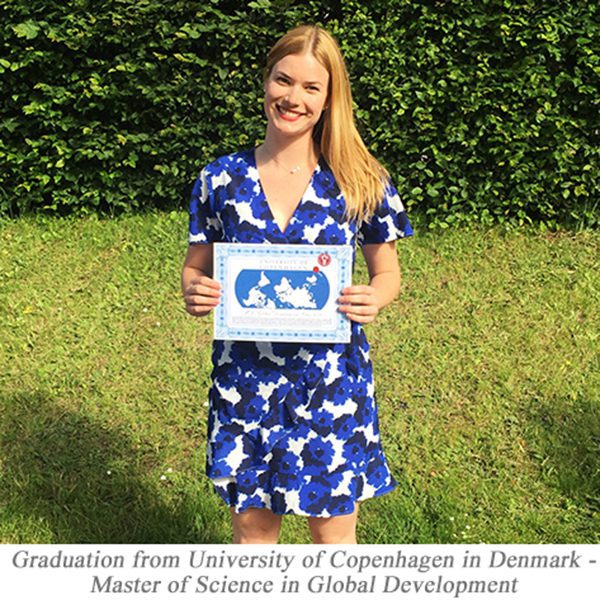 QUESTION – Who and what are your musical influences?
Christina A. –  I am open-minded when it comes to music, but I feel the most influenced by the genres of rap and jazz and strong solo artists such as Alessia Cara, John Legend, Sam Smith, and Amy Winehouse.
QUESTION – What advice would you give to young women who may want to follow in your footsteps as a female Steelpan musician and ambassador?
Christina A. – There are so many things I want to say, but the most important piece of advice I could give is that Steelpan will give you the strength, loyalty, and confidence you need to tackle the challenges that life is inevitably going to throw at you as a woman. The emotional strength you'll gain from pushing yourself to perform at your best is very empowering, not to mention the physical strength you'll gain from carrying oil drums in high heels! The loyalty you will have to your band members, to your fearless instructor, and to yourself and your abilities will teach you to keep yourself grounded and surround yourself with people who lift you up. Finally, the unshakeable confidence you'll grow from perfecting a difficult run (musical passage), from sharing your music around the world, and from dancing while playing in front of hundreds of people will help you develop your shield against the pressures we face as women to be or to act a certain way.
QUESTION – What's next for Christina Atkinson?
Christina A. – Anything and everything! I have a lot of diverse goals in my personal and professional life that I am working towards. But you will always find me in the space of economically empowering marginalized women. Steelpan has taught me that hard work brings great rewards and I have no doubt that as I continue to work hard, I will continue to feel so rewarded.